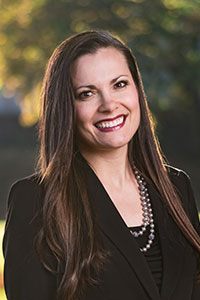 Andrea M. Vancleave DDS, MSD
Pediatric Dentist
A native of Olympia, Dr. VanCleave was introduced to dentistry at an early age. Her father, Dr. Jack Cox, practiced dentistry for over 30 years in Lacey, where Dr. VanCleave helped as an assistant during summers growing up. Her mother, Roxanne, is a teacher and school administrator, and helped inspire a love of teaching and working with children. In fact, Dr. VanCleave taught preschool through grade 12 at a local private school before pursuing her career in dentistry. Her brother, Dr. Bradley Cox, is currently completing his pediatric dental training at Indiana University/Riley Hospital for Children, and looks forward to joining Olympia Pediatric Dentistry when finished.
Dr. VanCleave completed her undergraduate studies at Pacific Lutheran University, where she received a Bachelor of Science in biology and minored in chemistry and studio art. She received her Doctor of Dental Surgery degree with high honors from the University of Washington. While there, she founded and directed the University of Washington Pediatric Dental Society and served as a Teaching Assistant for the Department of Pediatric Dentistry. Her research has been published in the Journal of the American Dental Association and the Journal of Anesthesia Progress. While in school, she received the Most Distinguished Scholar Award from the Department of Pediatric Dentistry and the Ralph E. McDonald Scholar Award for her outstanding performance during residency.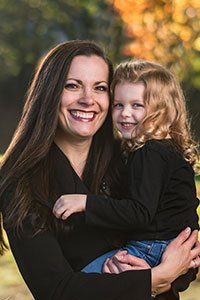 After her time at the University of Washington, Dr. VanCleave went on to receive a Master of Science in dentistry and a Certificate in pediatric dentistry from Indiana University/Riley Children's Hospital. She is a board-certified diplomate of the American Board of Pediatric Dentistry, and a member of the following organizations:
American Dental Association
American Academy of Pediatric Dentistry
College of Diplomates of the American Board of Pediatric Dentistry
Washington State Dental Society
Thurston Mason County Dental Society
Dr. VanCleave and her husband, Cori, have a beautiful daughter, Violet, and a dog named Domino. Together, she and Cori love to ballroom dance. She also enjoys snowboarding and horseback riding, but doesn't have the opportunity as often as she would like. In her free time, she also enjoys art, especially working on ceramics at the potter's wheel.
Dr. VanCleave strives to make every child comfortable and happy while providing a safe, caring environment for dental treatment.
---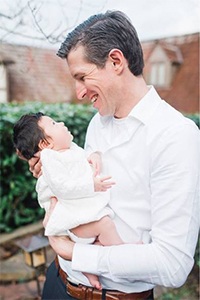 Geoffrey Bean, DDS
Anesthesiologist
Dr. Bean is a native to the state of Washington and earned his Doctor of Dental Surgery from the University of Washington. He holds a great passion for dentistry and keeps himself involved in many parts of the dental health community. Dr. Bean is an active Diplomat of the American Society of Dentist Anesthesiologists and a member of several different professional organizations in both King County and Pierce County. He teaches sedation and airway management at the University of Washington Dental School as an associate faculty member. He also supports The Friendship Circle of Washington, which is a non-profit organization that helps special needs youth and their families, by volunteering his time and resources.
Dr. Bean is dedicated to providing patients, both adults and children, with a safe, trouble-free anesthesia experience and has done so for over four thousand patients throughout his career. He helps all of his patients feel comfortable and relaxed. An appointment with Dr. Bean will feel more like a visit with an old friend.

Meet Our Team
Our fantastic dental team is ready and waiting to care for your little ones at Olympia Pediatric Dentistry, and have provided their biographies for you to meet and get to know them! Contact our office today so we can begin helping your children get the healthiest smiles possible. Our patients and their parents and caregivers love Olympia Pediatric Dentistry!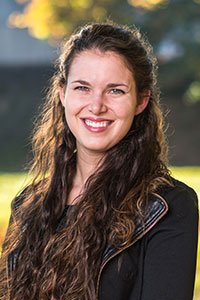 Emily, Dental Assistant
Emily currently lives in Lacey with her husband, Dupre'. Originally from upstate New York, she graduated from Monroe Community College in 2015 and moved to the Pacific Northwest that same year. Emily has been with Olympia Pediatric Dentistry since 2015 and says, "Working with kids and our team brings me so much joy!" She enjoys barbecuing with friends on the weekends, being on the lake, and riding her bike "whenever I get the chance!"
---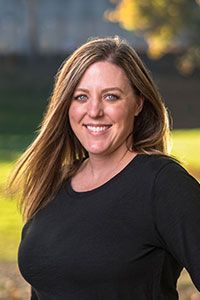 Jessica, Registered Dental Hygienist
Jessica has been with our office since 2001. She attended South Puget Sound Community College for dental assisting and graduated in 1999. After 10 years of working as a dental assistant, she returned to school and graduated from Pierce College in 2011 as a Registered Dental Hygienist. She and her husband Wayne, have one son, Riley. "I love working with kids because they say funny things." "My goal is to create a fun environment where kids love coming to the dentist". In her spare time Jessica enjoys vacationing with her family and spending time with her friends.
---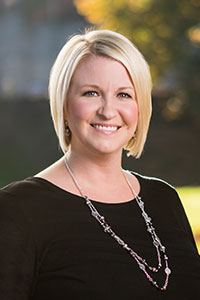 Nicole, Expanded Function Dental Auxiliary
Nicole started in our office in 1999 after graduating from the dental assisting program from SPSCC. In 2009 she returned to SPSCC to obtain her Expanded Function Dental Auxiliary license. She has two boys, Isaac and Joel with her husband Aaron. "I enjoy seeing kids get excited about coming to the dentist and helping them have a positive experience." In her spare time, she loves vacationing with her family, watching her kids play sports, and spending time with friends.
---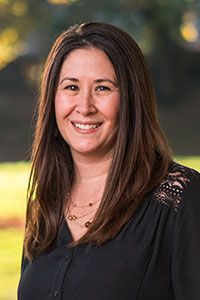 Tara, Expanded Function Dental Auxiliary
Tara was born and raised in the beautiful Pacific Northwest and has been a part of our team since 2002. She and her husband Chris and have two beautiful daughters, Carley and Macie. With over 20 years of experience, she loves what she does and wants every patient to have a pleasant dental experience. "I take pride in my work and am happy to work with a dentist and team of people who are the best at what they do." When not at work, Tara enjoys traveling, camping, and spending time with my family and friends.
---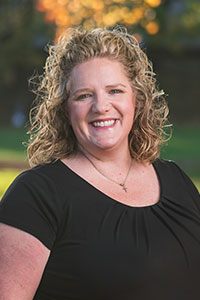 Chris, Insurance Coordinator
Chris has been with Olympia Pediatric Dentistry since 2015 and will help answer all of your insurance questions. She has been in the dental field since 2001, taking a brief time off to work in law enforcement. A graduate of Montesano High School and both Grays Harbor and SPSCC, she and her husband, James, and have three adorable children, Claire, Isaiah and Lucas. "Working in this environment is so joyful, I love the kids smiles and laughter throughout my day!" In her spare time, she enjoys being with friends and family, hiking, and laughing.
---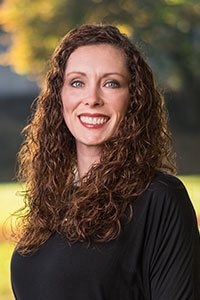 Tawni, Treatment Coordinator
Tawni graduated from the Clark County Skills Center (now known as Cascadia Technical Academy) in 2001 with a degree in dental assisting. She also earned an associate's degree in accounting and business and a Bachelor of Arts in marketing and business from University of Phoenix. Tawni joined our team in August 2016, and loves working directly with each family at our office. Tawni's own family includes her husband/high school sweetheart, Matt; two children, Mylee and Korbin; and their Heeler/Aussie Shephard, Mia. They enjoy camping, hiking, travelling, attending WSU football games, and attending all of the kids' sporting events. Tawni says that if she were a Disney character, she would be Tinkerbell because Tink is very independent and sassy, with a little bit of spice and everything nice.
---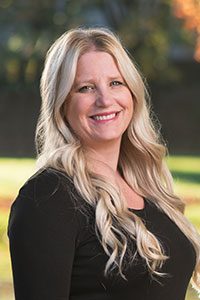 Melanie, Dental Assistant
Melanie graduated from the SPSCC dental assisting program in 2003 and has worked as a pediatric dental assistant at this office ever since. She and her husband, Nick, have two beautiful little girls, Ava and Aili. "We have a wonderful group of ladies here who all share the same compassion, nurturing philosophy and humor (a must with kids!) with our patients. I really enjoy working with kids to help create a positive dental experience to last a lifetime!" She enjoys gardening, sports with her girls, being on the Puget Sound and spending lots of time with family and friends.
---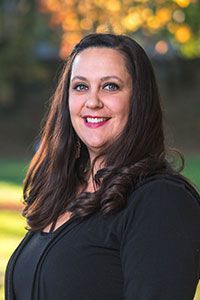 Katie, Dental Assistant
Kate worked at Olympia Pediatric Dentistry for four years before stepping out for a few years to raise her own children, and recently returned to resume caring for our patients. She loves our office and feels blessed to be part of an amazing, talented, and kind-hearted team. In her free time, Katie loves spending time in the outdoors, camping and hiking, as well as crafting. She has been married for five years and has three amazing kids. Her favorite Disney character is Moana because Moana is always by the water and wears super cute skirts!
---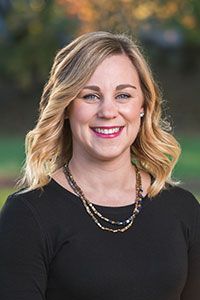 Kelsey
Check back soon to meet Kelsey
---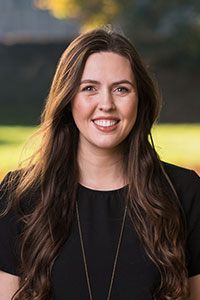 Kynsie
Check back soon to meet Kynsie
<!—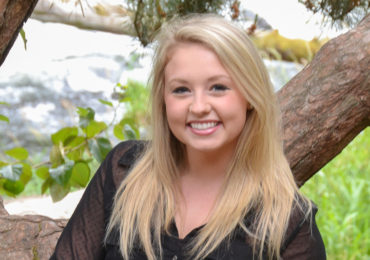 Bailee, Administrative Assistant
Bailee works at the reception desk but is also a Registered Dental Assistant. Bailee started her career with Olympia Pediatric Dentistry in 2014. She loves working with children; "it's their curiosity and joy that makes my job so fun!" In her spare time, she volunteers with a children's ministry and loves to be outdoors with family and friends.
---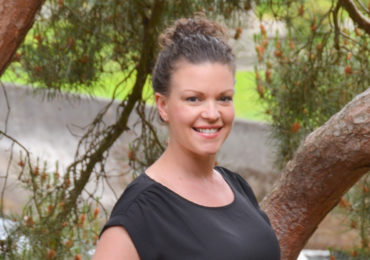 Caitlin, Scheduling Coordinator
Caitlin was born and raised right here in Olympia, WA and lives with her husband Nate, their dog Dingo, and their nine chickens. She has a bachelor's degree in Human Kinetics with a major in Kinesiology and started her career with Olympia Pediatric Dentistry in 2015. "I had very positive dental experiences as a child and am thrilled to have the opportunity to provide the same to the young patients here." In her spare time, she enjoys sewing, hiking, gardening, and learning new things.
---
---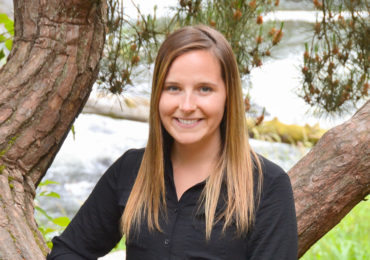 Kelly, Dental Assistant
Kelly was born in Wisconsin, but raised most of her life in Washington. She attended PIMA Medical Institute in Arizona, and graduated in 2012. Kelly has been with Olympia Pediatric Dentistry since 2015. "My love for children and knowing that I'm able to make a positive impact in their lives is what I love most about working here at Olympia Pediatric Dentistry." In her free time, she enjoys hiking, camping, going to church, and spending time with friends and family.